Favorite Quote: "If your dreams don't scare you, they aren't big enough"
– Ellen Johnson Sirleaf
Background:
Marie is a veteran of media and marketing, in sales, business development and management positions.  She also produced and distributed television programs that received local industry acclaim.
Marie worked internationally for the Young Presidents' Organization, the premier Chief Executive Leadership organization in the world – with over 25,000 members as Director of Integration.
Harnessing her abundant energy and calling on her breadth of experiences, Marie has brought her love of content creation and storytelling to podcasting and social media with Daughters of Change– a company with a mission of
Telling the stories of the Daughters of Change who are leading and changing the world – each in their own unique way
Connecting and support these women and girls
Inspiring others to take action and set an example for future generation(s)
Marie believes that everything is possible, and the best lessons in life are learned outside of the box! What you put out there is what you attract back – each day is an opportunity to blaze a new trail and set change in motion.  Most importantly, she is determined to have no regrets for not having tried when she meets her maker.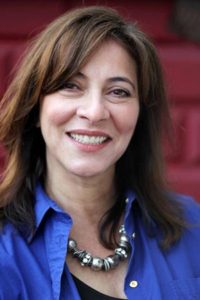 A Message From Marie
I have been described as a lot of things. My personal favorite is being called a Spark Plug who can envision the big picture, as well as execute on the ideas. Long before the term was in vogue, I was an entrepreneur at heart. I love the challenge of building something from the ground up.
From the time I was a girl, I knew someday I would make a difference in a significant way. As the clock started ticking towards 50, I realized that later was now; if I didn't make a move, I would regret it on my deathbed.
Faced with the knowledge that the time was at hand, and armed with a healthy dose of risk-taking confidence, I quit my job to figure it out. With the sound of people saying, "Are you crazy?" "You did what?" "Did you get fired and don't want to admit it?" ringing in my ears, I set forth to make sh*t happen. It was the most terrifyingly wonderful thing I've ever done.
Soon afterwards, I realized that my path had been in front of me all along – build a business with a social mission and do well by doing good. I am a working philanthropist!
Daughters of Change was born from a fiery passion and a fearless belief that everything is possible. I hope you'll join us on this journey. It's going to be one hell of a ride.