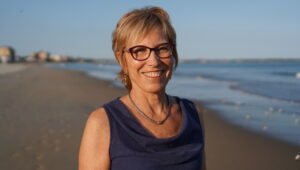 Deb Bergeron, founder of Ocean of Possibilities, is a professional life coach. Deb is passionate about helping busy professionals realign with their most significant priorities. Deb works individually with clients, with professional groups in the workplace, and through interactive workshops. The goal? To help her clients live vibrantly, with greater joy, fulfillment and balance.
In November 2014, Deb founded 100+ Women Who Care Southern Maine. The group's mission is to use the power of collective giving to make a difference in the Southern Maine community it serves.
Since its inception, 100+ Women Who Care Southern Maine has donated $100,000 to local, grassroots charities and currently has 285 members. The group is proof that when caring, passionate women link arms and work together, communities are changed forever.
Prior to starting her private coaching practice in 2003, Deb spent over 23 years in sales, sales management, team building and leadership for a Fortune 500 Company.